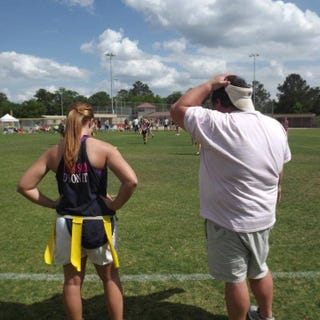 My phone exploded at 4:03 AM on 8 February 2014. I was dead asleep, and black-hours phone calls are never good. It was my dad, who along with me, my mother, and sister had been camping out at Valdosta's General Hospital for the previous week.
"Jim," he choked, then coughed, "there's been a change; you and Sarah need to come down here ... now."
"Alright." Too numb and tired and drained to even ask, I hung up and shook Sarah awake.
It was raining hard that morning; just shat all over south Georgia without care. Sarah's fiancé drove slow to the hospital, and her vice grip drained my hand of blood-flow on the way.
Elizabeth, our little sister, died at 2:56 AM on 8 February 2014—an hour before dad called me. She was 21 years old, beautiful, red-haired, and hilarious. Her smile could reduce the most Stoic of humans to mumbling messes.
That was Saturday. The previous Wednesday, she was demolished by a Chevy Silverado as she left her noontime Statistics seminar. Her backpack was filled with standard undergrad paraphernalia: a laptop, wallet, immaculate notebooks, pens, and a calculator. The woman was organized.
Elizabeth died on a Saturday. The nurses cut a lock of her red hair for mom and dad, and to this day I can't look at it. It's beautiful and perfect and just so her. And it kills me. I will not look at it.
Elizabeth died on a Saturday. Saturday, February 8th, 2014, at 2:56 AM. After the tears and rending of hair at the hospital, all we could do was go back to Sarah's house. Sarah. Beautiful and funny and so fucking destroyed by Elizabeth's passing. Sarah. I'm sorry, Sarah.
"They took her lung," she bawled, "she'll live without a lung." Then they took a quarter of her liver. Then, her brain stem swelled and there was nothing to do but talk to a coroner. Whatever happened to that goddamn lung?
The lung destroyed my dad, who felt Elizabeth would never be whole again. And I guess she never will, even though we cremated her. Cremated, less one lung and a portion of her liver. Elizabeth: fractured, excised, fragmented.
We wrote her obituary together, dad and me. We came back from the hospital, brewed a colossal pot of coffee, and wrote her obituary as the sun came up. It was Spartan, specific, and to-the-point, like she would have wanted. It was surreal to write, but it did her justice.
Her funeral drew thousands. A nasty, cold, spitting rain botched the day, but still we laid Elizabeth to rest. Thousands of us. We had to; Valdosta had to. There was no rest, nor would there be rest, until Elizabeth's soul were put to bed. She needed to sleep.
She's been gone four months now, and still it hurts. It's terrible. She was so beautiful and active and smart. She made me sorry to sleep: how do you pack that much into 24 hours? Incredible and beautiful and energetic, always.
Requiescat in pace, Elizabeth.